Cardboard boxes have been used for a long time, and the story of these boxes starts with paper. Paper was not made out of wood chips until the middle of the 19th century, but it was made out of fibre from other sources. These sources included cotton, linen and rags. In 1857, paper made from wood chips was developed and was considered to be a lot stronger than the paper that was being manufactured with other materials, so it became more popular. Boxes were created to hold this paper, and many of these boxes were made out of cardboard, which is a type of flat paper that is a mix of paperboard and paper. The real breakthrough, however, came in 1879. It was then that Robert Gair, owner of a Brooklyn paper factory, figured out that he could both score a single sheet of cardboard and then have his printing press cut it at the same time, eliminating laborious hand-cutting. When the flat pieces were folded together, the cardboard box as we know it was born. Lots of companies in different industries began to use cardboard boxes because they were inexpensive and easy to manufacture.
The making of cardboard
A cardboard box is basically made up of a flute (made up of recycled paper), sandwiched between two liners. It is now very common for these liners to also be made up of a considerable proportion of recycled content, sourced from old cardboard or other sources of second hand paper.
However for top quality boxes virgin Kraft is still used. In actual fact though, it doesn't really matter whether the paper is recycled or not, ultimately it always started out as virgin paper which is made from trees that have been pulped.
Where Cardboard is used in production
Cardboard boxes are a form of container used for the packaging, shipment, and storage of various products sold in retail to consumers or commercially to businesses. Cardboard boxes are a key component of the broader term packaging or packaging materials, which is based around protecting goods during shipment.
Here are some examples of the uses of corrugated cardboard boxes:
Mailing or Shipping Boxes
Mailing boxes, also known as shipping boxes, are available at post offices and other shipping locations and are used to hold items bound for shipment through the mail and other carrier services. These corrugated boxes feature C flutes, which are 3/16" and the most common type of fluting used.
Moving Boxes
Moving boxes are a type of corrugated box designed to temporarily hold items for transportation via truck during a change in residence or relocation to a new home or facility. This type of cardboard box comes in a range of sizes and layers.
Pizza Boxes
Many pizza boxes are constructed of corrugated cardboard to provide protection during transport and delivery, and to enable stacking of completed orders awaiting pick-up. Since the food going in the box is relatively light, this type of corrugated box features E fluting.
Other products made from cardboard
The use of Paperboard is typically 0.010 inches in thickness or less and is essentially a thicker form of standard paper. The manufacturing process begins with pulping, the separation of wood (hardwood and sapwood) into individual fibers, as accomplished by mechanical methods or chemical treatment.
Some examples of paperboard boxes include the following:
Bakers' Boxes
Bakeries use cake boxes and cupcake boxes (collectively known as bakers' boxes) to house baked goods for delivery to customers.
Cereal & Food Boxes
Cereal and food boxes are a common type of paperboard box, also known as boxboard, that packages cereals, pasta, and many processed food items.
Drug & Toiletry Package Boxes
Pharmacies and drug stores sell items that are in drug and toiletry boxes, such as soap, lotions, shampoos, etc.
Gift Boxes & Shirt Boxes
Gift boxes and shirt boxes are examples in retail packaging of folding paper boxes or collapsible boxes, which are easily shipped and stored in bulk when folded flat, and which are quickly refolded into useable forms when needed.
In many cases, the paperboard box is the primary packaging component (such as with bakers' boxes.) In other situations, the paperboard box represents the exterior packaging, with additional packaging used for further protection (such as with cigarette boxes or drug and toiletry boxes).
Ref sources: This article presented a brief summary of the common types of cardboard boxes, including paperboard and corrugated boxes, along with information about the manufacturing processes associated with cardboard stock.
How to recycle
Responsible Recycling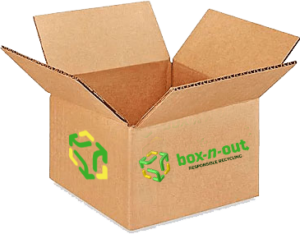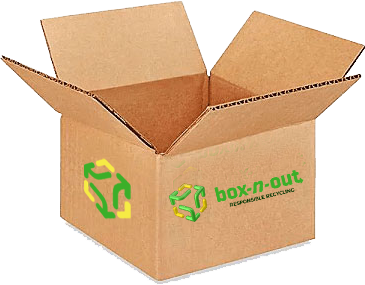 Becoming part of the Box N Out caring community, individuals and businesses know that with each cardboard box or Polystyrene White Foam they donate, they help improve the lives of those less fortunate in their communities.
By donating your daily cardboard or Polystyrene White Foam to Box N Out, you are benefitting local churches and charities and responsibly becoming your own recycler.
By scheduling a weekly pickup, you are taking part in a more environmentally friendly process.  Box N Out will collect, bale, and ship the cardboard directly to the papermills.  There are no middlemen or large power-consuming sorting facilities being used.
Our Box N Out Ambassador Program provides a fun and unique way to donate your time by volunteering at one of our many events.  Click here to learn more.
Support local!  Box N Out is headquartered right here in Southwest Florida.  By donating your used cardboard or Polystyrene White Foam, you are helping to create local jobs.  Our unique recruiting process will aim to provide local well-paying jobs to those that need them the most.
The Future
Future corrugated containers will be manufactured using kraft paper produced from recycled packaging rather than trees. Recycling and other environmentally friendly processes will continue to grow in importance in the future of corrugated cardboard. Today, inks based on soybean oil and biodegradable waxes and other coatings are beginning to be used in container manufacturing. Leading packaging companies are already operating paper mills that make fresh, clean kraft paper by de-inking and pulping used containers.
Read more: http://www.madehow.com/Volume-1/Corrugated-Cardboard.html#ixzz740fm4Bik